Pictures of the week
Updated 23rd January 2020
Joe Kassler
Joe was a patient of the New Zealand Section in 1918. In September 2014 I was contacted by Tim Fuller, who was assisting a friend (a retired scene-of-crime police officer) in clearing his house prior to moving to residential care. It transpired that the cup had been found at the bottom of the Waikato River, Hamilton, NZ, during a police dive. How it got there is a mystery.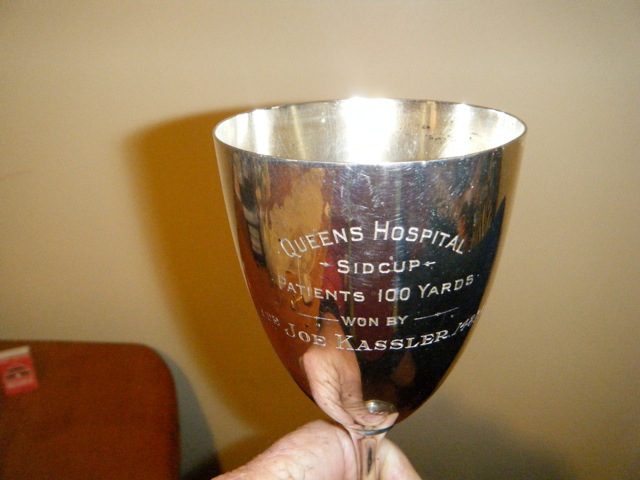 Walter Ashworth
I received a moving story about Pte Ashworth of the Bradford Pals.
Ashworth was wounded on the first day of the Battle of the Somme (July 1st 1916). He was a tailor by trade and when he volunteered he had a good job working for a leading tailor in Bradford; his employer had assured him his job would be waiting for him when he came home.
The Bradford Pals (the 18 th West Yorkshire regiment) formed part of the second wave of the attack on Serre, behind the Sheffield Pals. They never even got across the front line trenches before being cut to bits, and Ashworth's wounds took him first to Aldershot and later to Sidcup. Tonks drew two pastels; the first shows him awaiting the orderly washout round, kidney dish below his chin, when the wound would be irrigated by sterile water or Dakin's solution (hypochlorite, still sold as "Milton") and at the time of discharge his repair was less than perfect.
I am grateful to Diane Smith, his granddaughter, for this information:
When he was able to work, he returned to his former employers. However, they had not expected him to have facial scars and so refused to let him work in front of shop as a tailor, and relegated him to the back of shop where he was demoted to simple jobs. It upset him so much that he gave his notice. This must have been a very traumatic time for him. I should add that it gave him some satisfaction that his employer a few weeks later went to his home and asked if he could come back to work as a tailor as their customers had been asking for him and refused to deal with anyone else. However, his confidence had been shaken and so he did not return.

When he joined the PALS, he was engaged to be married to a lady from Cheadle, Cheshire. However, after being wounded, his fiancée called the engagement off. One of the lady's friends happened to be my grandmother and she was so disgusted about the lady's actions that she started to write to my grandfather in hospital and went to see him. They became engaged and later married in Halifax. They had one daughter, my mother.

After his operations, it was recommended to him that he go to live in a warmer climate to help him become stronger and so he hit on the idea of looking for work in Australia. He accepted a two-year contract position as a butler and my grandmother, as a cook, on a sheep station in the outback of New South Wales. His work was not too demanding for him and he benefited greatly, I believe, from the warm weather and totally different environment. He was treated very well by the family who owned the sheep station and I think this built his confidence up greatly, reading between the lines.

He returned to live in Blackpool, being able to buy a house straight away with his earnings from Australia and returned to being a tailor, working for himself. He was always employed and became quite successful in his trade.

Regarding his continuing health, as long as I can remember, he always had trouble with his lungs being very congested and, in fact, he passed away in his sleep due to breathing becoming so difficult for him.

After he had retired due to his congestion, he applied for a British war pension and was refused a full pension as they told him he wasn't eligible as his war wounds were not stopping him working! He fought it for several years and finally was approved. So much for the thanks of a grateful nation!!!

His wounds, especially in his back, were a constant problem for him and shrapnel was removed from his back even as late as 1950's. He could never eat certain things but seemed to overcome any problems regarding that. He was an extremely popular man, very dapper and always carried himself proudly and without embarrassment and socialised a great deal.
Interestingly Ashworth met Harold Gillies during the latter's tour of Australia and New Zealand, and Gillies suggested that he could, even at this late stage, improve things! Ashworth declined the offer.
Added 29th January 2014
The Man who Sent the Postcard
Postcards of military hospitals are common and the Archives contain a number from different places. Usually they show buildings, or groups of staff or patients. Many have no identification marks so it may be a matter of conjecture as to where they were taken; I have put more than one up for analysis with some success.
Most cards appear to have been bought as souvenires, and have never been written upon or posted. I have for the first time been able to identify the sender of a card from Sidcup which I bought recently on EBay.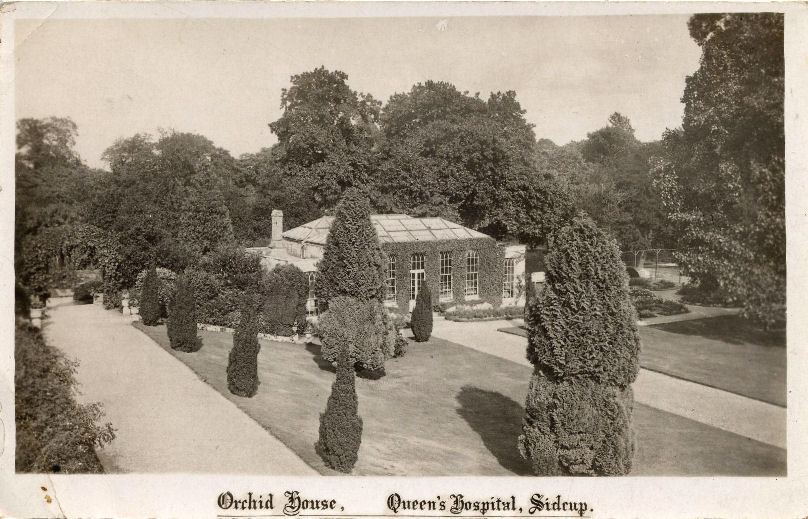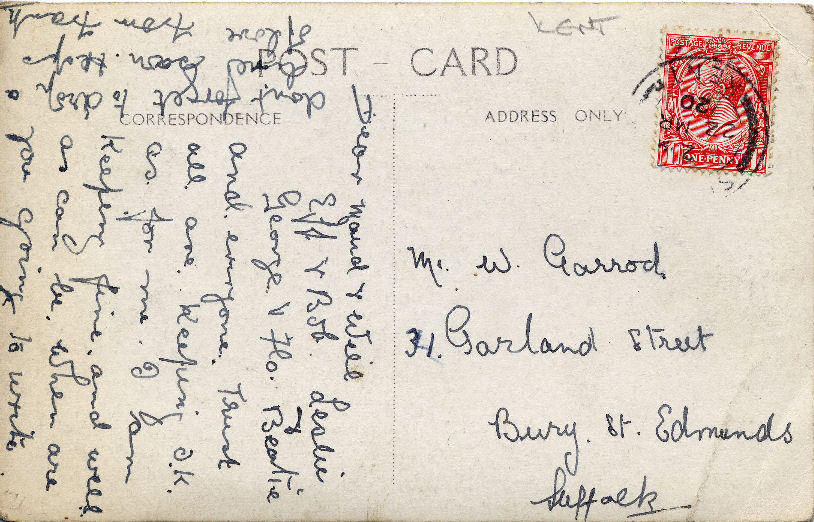 The content of the message suggests that this was a family card. Our records conatin a Garrod F, listed as being in the Lincolnshire Regiment. Checking with the medal rool reveals that he was indeed Frank Garrod, although there listed with another regiment. He was in the hospital for continuing surgery at the time the card was sent, so everything fits, and here he is two years previously, as photographed for the notes.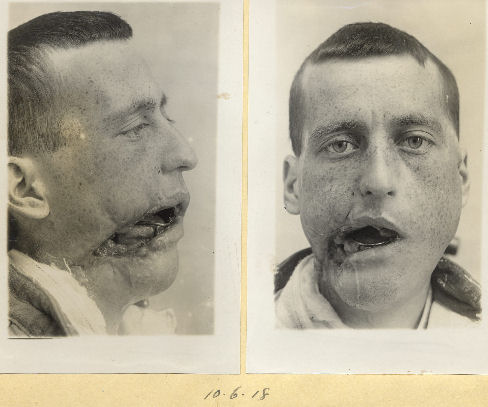 Added 23rd August 2010
A chance find
One of the Sidcup staff, named Stuart, bought a small book by David Grayson entitled "Adventures in Contentment" in 1920. As a bookmark he or she used a copy of the bed state of the hospital, dated 24th June, which was found by Mr RJC Eburne after he bought the book in a secondhand shop; he kindly donated the find to us.
Even so long after the war had ended it is clear the hospital was busy, as an inspection of the number of empty beds makes clear.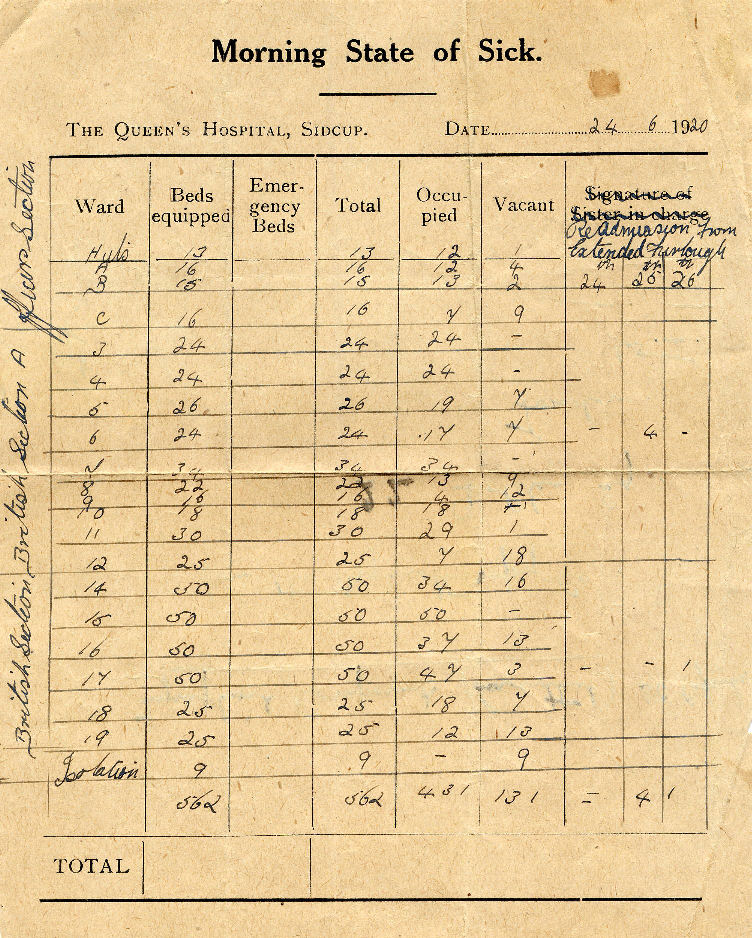 Added 19th April 2009
Blood and Guts: The history of surgery
Queen Mary's Sidcup NHS Trust featured in a BBC series on surgery. The hospital, a worldwide pioneer in plastic surgery, was set up in 1914 to care for world war one servicemen with facial injuries. It featured in episode 4 of 'Blood and guts: A history of surgery' which aired on BBC4 on 10 September, presented by Michael Mosley.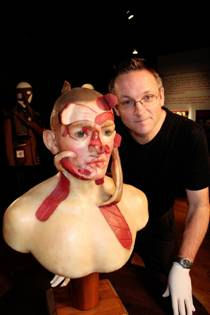 . Michael Mosley with the wax model from the Queen Mary's Archives
Other stories featured in the programme include the gruesome tale of American socialite and beauty, Gladys Deacon, who aged 22 had hot wax injected into her face to perfect her nose. It melted and destroyed her looks and she ended up in a psychiatric hospital where she died at 96.
The programme also looked at present day plastic surgery, which is on the cusp of one its greatest achievements of all time - the first full face transplant. Top surgeon Peter Butler discussed what it would feel like to live with someone else's face.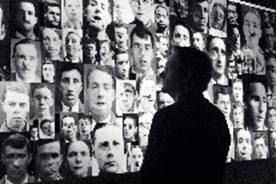 These photos courtesy of the BBC; permission from: pictures@bbc.co.uk
Added October 24th 2008
Faces of Battle
This exhibition at the National Army Museum is the first public showing of material from the Gillies Archives, and illustrated graphically the effects of bullets, shells and fire on the human face. Casenotes, photographs and plaster casts were complemented by the evocative textile work made by Paddy Hartley of Project Facade
Left: the opening panel of the exhibition. Right: The exhibition team
Added 24th October 2008
Healing hands: the work of Percy Hennell
These two images, acquired by the archive, are of the hands of two of the most famous surgeons of the 20th century, Harold Gillies and Archibald McIndoe. The photographs were taken by Percy Hennell who, in WW2, worked with all the major UK units having developed a colour photography process that produced fadeless prints. The Gillies hands image appears on the fron of the case for the two-volume work by Gillies and Ralph Millard, "The Principles and Art of Plastic Surgery" (1957).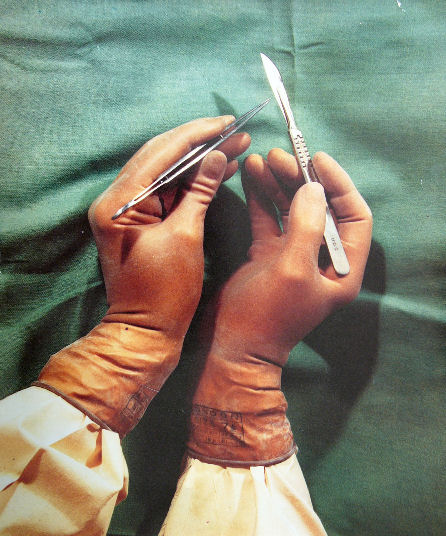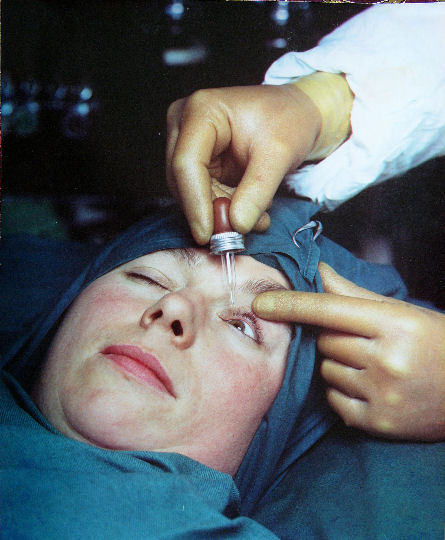 Percy Hennell produced the colour prints that were used in Gillies & Millard. Related to the silversmiths, Hennells of Bond Street, he was a renowned photographer who became head of design for the Metal Box Company. His photograph of two choirboys (one his son Garvin) adorned tins of Sharp's toffees. He collaborated with Andre Simon on his series of books for wine conoisseurs and became one himself.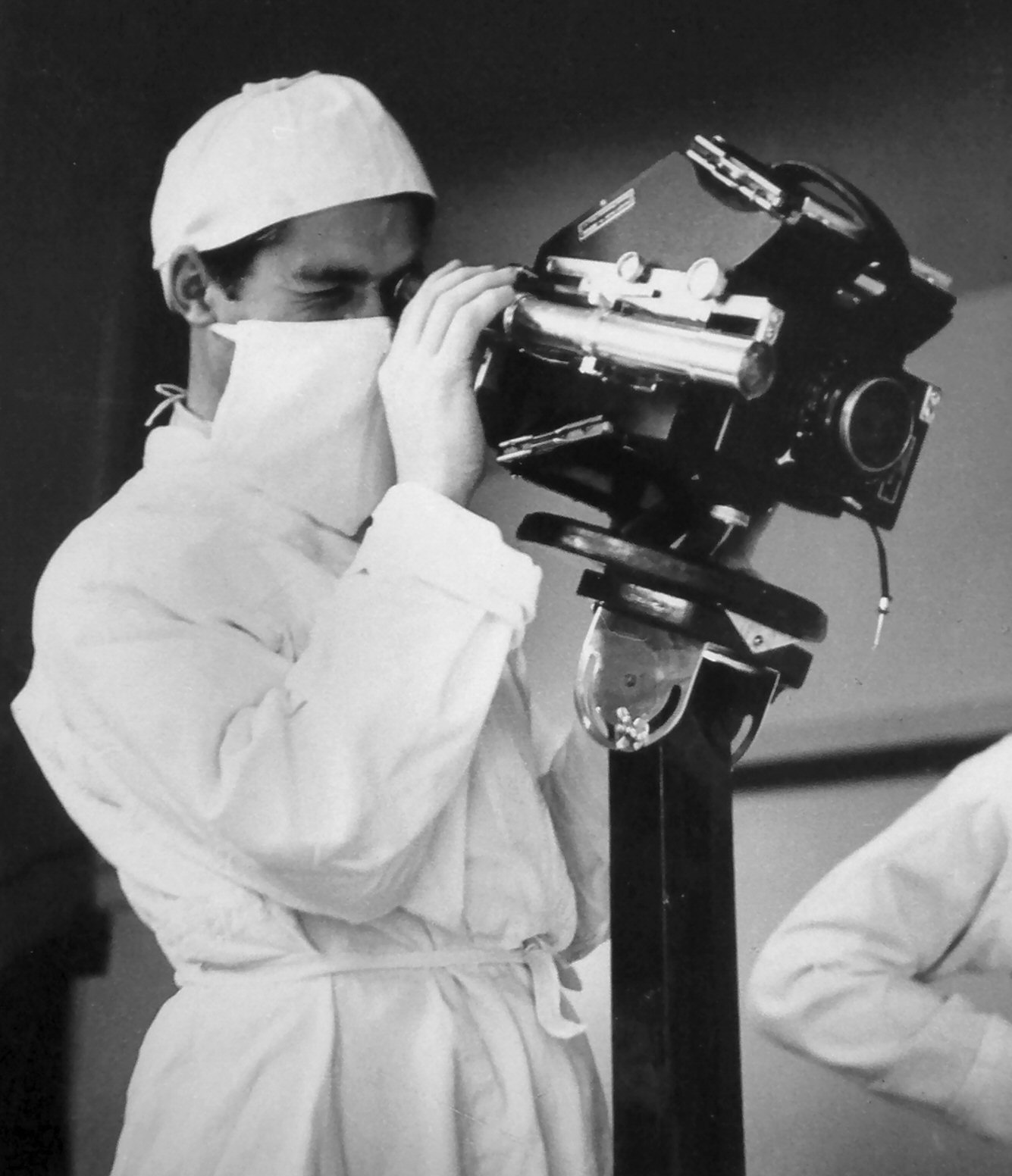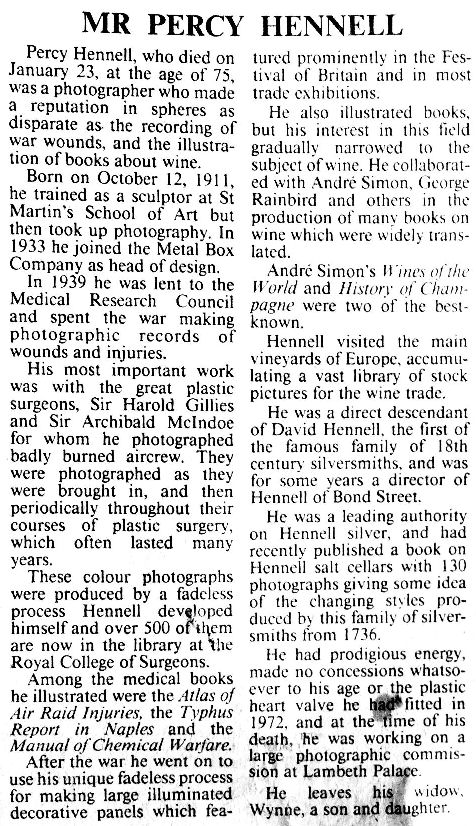 (L) Hennell in theatre with his three lens camera (courtesy, BAPRAS archive) and (R) his obituary in "The Times", 1971
An exciting discovery...
During the course of conservation of the Tonks pastels in the Royal College of Surgeons a new image has been found on the revese of that of Gunner Dyson (see the pastels gallery). This appears to be of a New Zealander, Pte Guthrie of the 1st Canterbury regiment; the photograph from the notes is very similar, and Tonks made a drawing of the surgery. Maybe there are more hidden gems to come.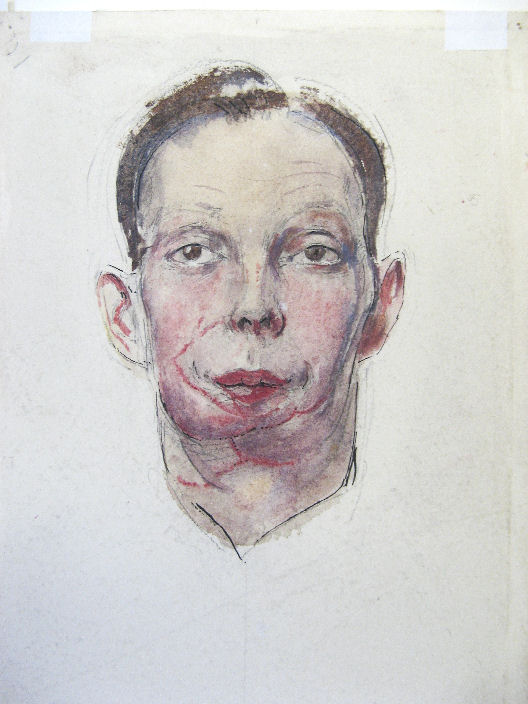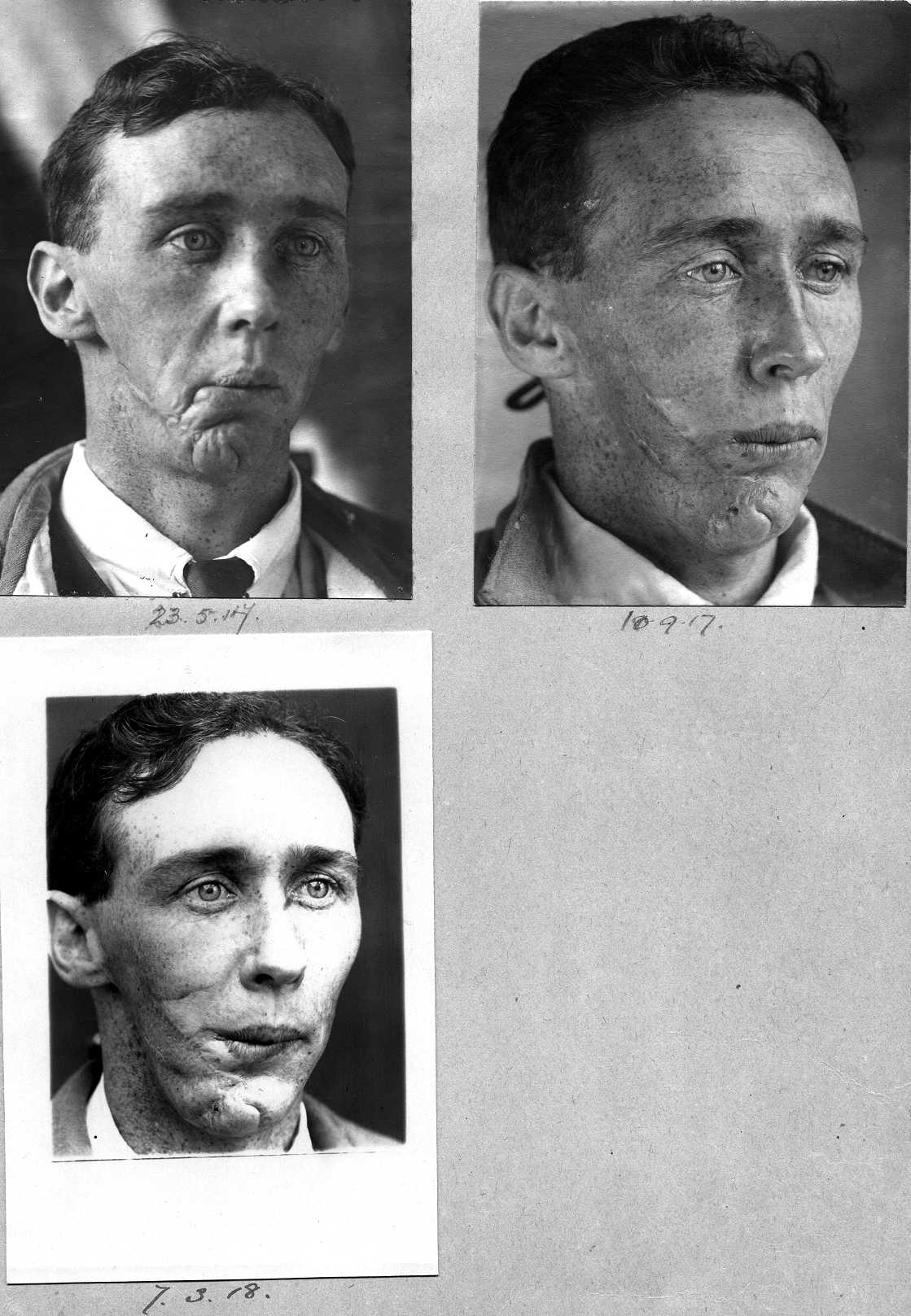 A lost survivor
Norman Eric Wallace was a Canadian artillery officer attached to the RFC who was badly burned in an aircraft fire. His yearbook photograph shows a handsome young man.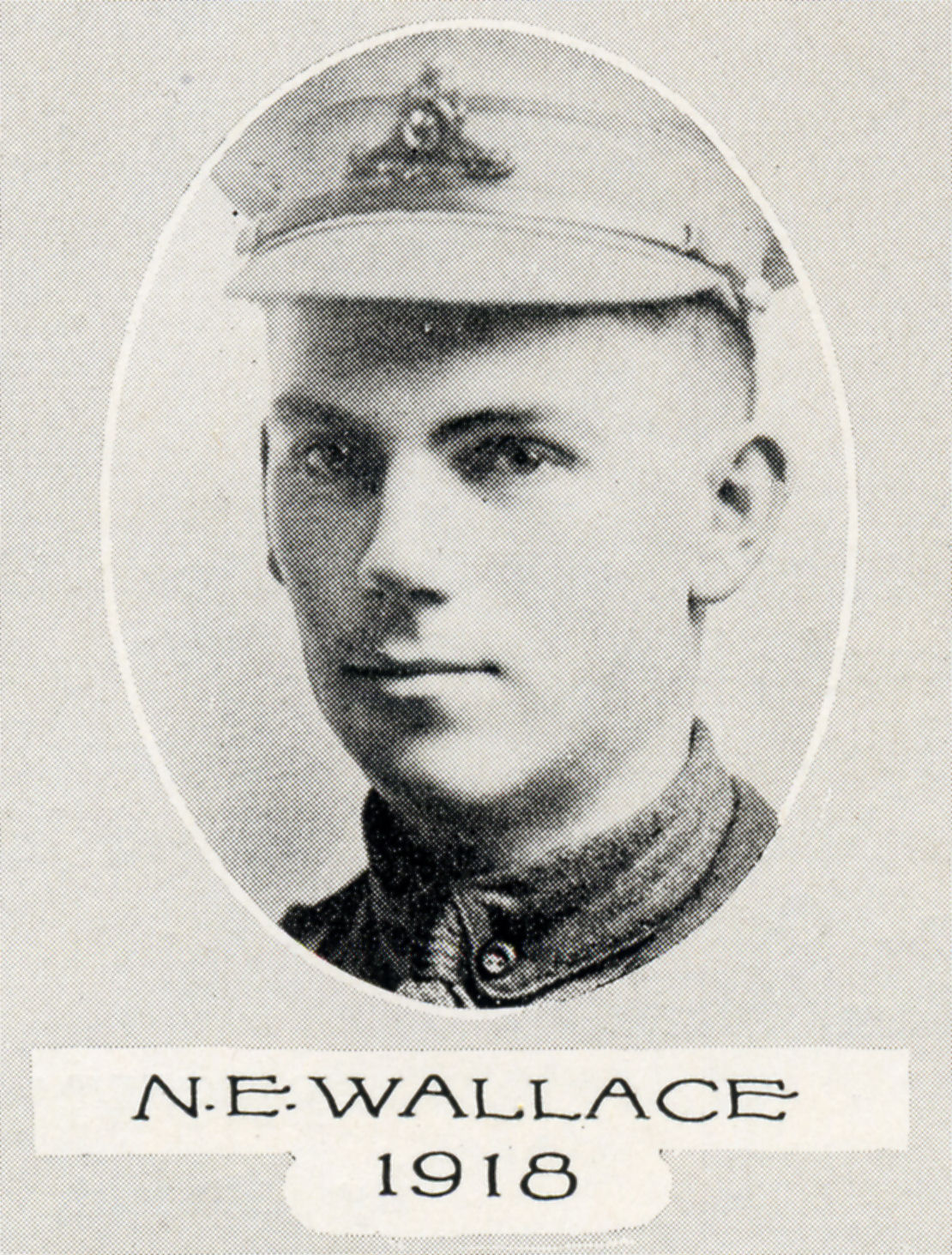 Quite by chance we have discovered what happened to him after the war and it is a story we did not expect, both tragic and heroic.
Jeremy Stevenson wrote to us, and below appears an edited version of the extraordinary story of "Uncle Eric".
"In 1914 my late grandfather - Frank Lironi - bought the Lake Hotel, Llangammarch Wells, Powys (then Breconshire). He was to run it in conjunction with his wife, my grandmother until his death in 1957.

In 1925 a RFC Pilot came to stay at the hotel for a weekend. He stayed for 35 years. As you have probably guessed he was Norman Eric Wallace.

Of course all this was long before my time. My mother Joyce did not have me until October 1941. Major Wallace as he was to become, was a father figure to me. He taught me hunting, shooting and fishing, and also had a great love of photography. As a young boy I learned to fly model aeroplanes under his expert guidance. He also greatly encouraged me when I started tape recording in the late 1950s. Indeed, one of the first recordings I made was of a family Christmas lunch in which he featured prominently. As for my other recordings, well, that is another story altogether.

I am getting ahead of myself. I think I am correct in saying, when he came to Llangammarch Wells he was Captain Wallace. When the war came in 1939 he helped organise the Home Guard and - as I always said - became the local Captain Mainwaring! It was some time during this period that he was promoted to Major.

I have spent much of my life going to the theatre. I am particularly thinking of the West End of London, although one must not forget the provinces as well. Here again Major Wallace started me off on this. As a child we would go to London for a week in the summer and spend practically every nigh in the theatre. There can't be many West End plays from the 50s, 60s and 70s that I have not seen.

He was a guest at the hotel - but on the other hand he was a close friend of the family as well. I suppose he was in a unique position. During the war he was supplied with an MOD car. According to my mother he used to drive this round the local roads - most of the time on the wrong side! I was just too young to remember whether this was true or one of my mother's gross exaggerations.

As you will have gathered by now, I got to know him extremely well To me, Norman Wallace was Uncle Eric. His father, Robert Richard Wallace, was a medical officer with the CAMC, and we have a photo of him with a group of Officers (? doctors) and nurses - on the reverse is written "With best wishes from Lakenham Military Hospital, Norwich, England" in ink. And in pencil "Major R.R.Wallace and his nursing staff". We have a photo of NEW as a boy of about 14 holding a large fish that he had just caught. This may give you a good idea of what he originally looked like, before his terrible injuries.. We left the Lake Hotel in 1960, as it had become too much for my grandmother to run it. My mother and I went to live in a house just opposite. There was a lot of land, and Major Wallace was able to have a chalet there.

He lived here until his death in 1974. The cause of his death was carcinoma of the lungs. He was a fairly heavy smoker.

During the time he spent with our family - it was known that he had been married, but he never spoke of it. Recently we have discovered that he married whilst still at Queen's Hospital on the 23rd June 1920. Sadly his wife died of cancer - aged 29 - a few days before their first wedding anniversary on 19th June 1921. I note from his medical history notes. that he was re-admitted to Queen's on 27th June 1921 - that was two days after the death of his wife.

There is one post-war photo that we know of him. This was a group photo taken with the local Home Guard during WW2 but sadly we do not have a copy. As he was usually the photographer, there are none that I have. He left everything he had to me, including his books and all the negatives of photos taken at the Lake Hotel over the years. We are gradually working our way through them - but so far have found none of him."
What a terrible tragdy; that he should find love, despite his injuries, and then have it cruelly snatched away. Did Wallace deliberately seek refuge in an isolated spot where he could hide? Yet he was clearly a kind man, and good with children. We have another tale of a burned soldier who remained at Sidcup as a night porter, but ran a Sunday School class where, as one of his students put it, the children were curious but did not show revulsion.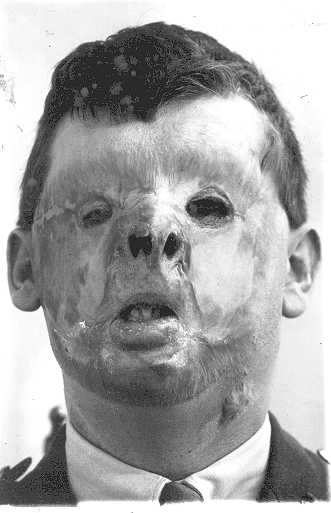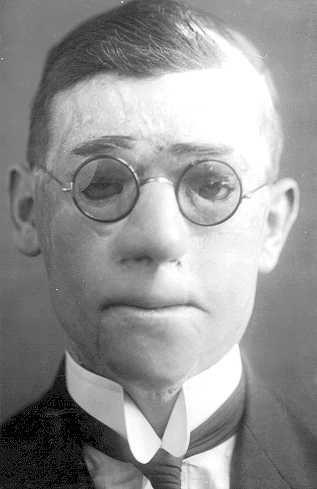 Many WW1 hospitals arranged for their patients to have photographs, either of where they were or indeed of themselves and their colleagues. We have been collecting many of these images and are pleased to add a hospital postcard web gallery of them here. It includes cards of a number of hospital ships. We are always on the lookout for more! If you should come across any such images we are keen to expand the collection - a scanned image would be quite sufficient but feel free to email with information.
The images are of varying sizes and quality. Many are scanned from the archive's own collection while others have been garnered from the web - mainly, it has to be said, images of cards that the Curator has tried, but failed to buy! The gallery is large so you will may to be patient when downloading full-sized images.
A useful list of UK hospitals, and their functions can be found on the Long Long Trail site via this direct link
The picture below is of some of the nurses at Addington Palace hospital, near Croydon, which was used for the treatment of typhoid. The names of the nurses have been added to the mount in fountain pen - an unusual find.
L to R: Warburton, Wring, Jenkins (behind), Davison, Pons, Trips, Trevithick, Townsend, Pourlesland and Woodward
Many soldiers collected cigarette cards - indeed, the Australian War Memorial has a large number of complete sets in its archives. One set produced by Carreras and included with "Black Cat" cigarettes was "Types of London", which appeared in 1919. One of the set depicts a VAD and one a wounded soldier, shown below.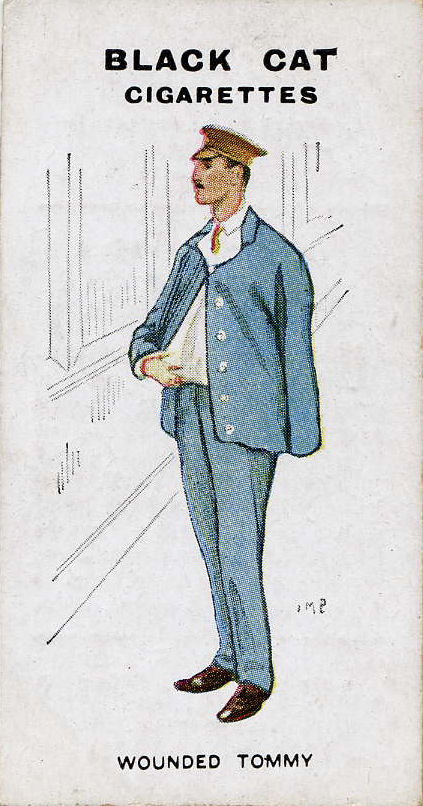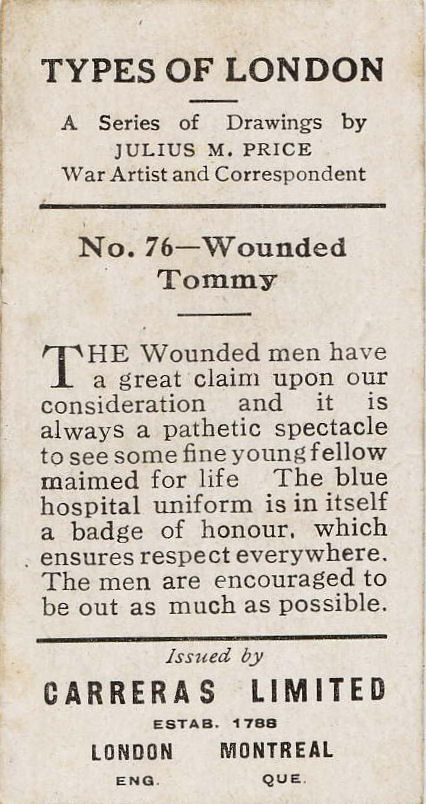 Harold Gillies himself featured on a card - one of a series produced in 1930 of famous golfers, including many Ryder Cup players. There cannot be many surgeons with that distinction!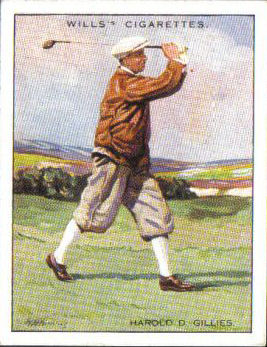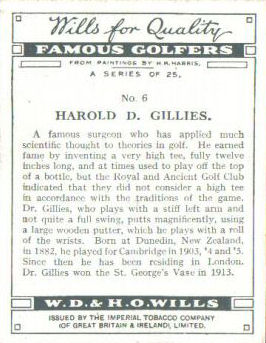 My attention has been drawn to a fascinating website of nursing postcards constructed by Michael Zwerdling and based on a comprehensive study now published as a book ("Postcards of Nursing": Lippincott, Williams and Wilkins 2004) . Two images of WW1 vintage are reproduced below by kind permission.
| | |
| --- | --- |
| | |
| Hand-drawn card c.1916 | Italian card, 1916 |
A selection of images about which more information would be helpful and some of the images which have appeared in "Picture of the Week".
The Queen's Hospital/Queen Mary's postcard collection
This link allows access to the postcards produced for, or by the hospital between 1917 and 1940. The numbers refer to the different sets, which have varying borders and caption fonts. A prefix "qh" denotes a card prior to 1929; "qm" is for cards after the renaming of the hospital when it was taken over by the London County Council.
The Gillies Archives' first major aquisition of notes from the New Zealand Section at the Queen's Hospital included a collection of watercolour paintings, 84 in number, with a few "before" and "after" pairs.
The paintings were made by a number of artists of whom Daryl Lindsay is the best known and the most proficient. They are largely on Whatman board, quarto size, and some have been pinned up for display and have suffered some colour changes, in particular yellowing and loss of the blue tones. The image pages here have been edited with Paint Shop Pro v7 and the colour balance adjusted.
These images are not for the squeamish!
We have recently learned that, in addition to the 15 additional watercolours recently aquired from the Macalister family, another 16 have surfaced in New Zealand and are now in the possession of the Hocken Library, Dunedin. Among these may be the four shown below, which make up the frontispiece of the textbook by H.P. Pickerill, head of the New Zealand Section. In addition it appears that a large collection of Pickerill's papers include a substantial number of WW1 records; we await further details, but it would appear that the case files were "filletted" for Pickerill's book and that the Library collection comprise those parts that are missing from the Macalister notes.
| | |
| --- | --- |
| | Frontispiece of Pickerill's text on facial surgery, produced on the basis of his M.S. thesis to the University of Birmingham |
Other discoveries...
It's curious how long things can remain concealed from even the most vigorous researcher! The Imperial War Museum possesses, it turns out, several paintings of the Queen's Hospital, by J Hodgson Lobley and Walter Spradbery DCM. Two are reproduced, with permission, below. They show the Occupational Therapy side of life at the hospital; men required things to do to fill the long days and weeks between operations, and were also trained for life outside. Toys made at Sidcup were advertised by the London "Evening Standard" and were judged to be of very fine quality. I have yet to see a Sidcup toy!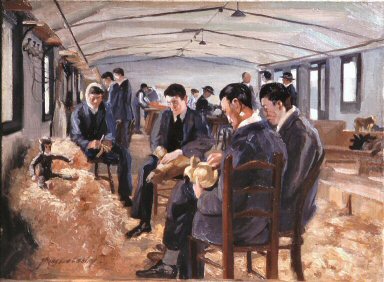 J Hodgson Lobley: The Toymakers' shop. IWM 3756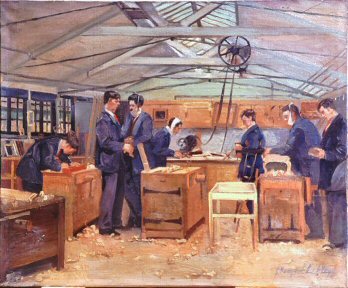 J Hodgson Lobley: The Carpenters' shop. IWM 3728