The Archivist's selection
WW1 medical photography
The late David Cohen possessed the splendid painting below, of a group of men in hospital blues disembarking from a pleasure boat. David was unsure of the site, so I asked Len Webb of the Thames Valley Branch of the WFA if he could help. Within days he reported that Paul Cob (and ex-WFA Committtee member) was quite certain that it was painted on the Thames between Marlow and Maidenhead - at Cliveden, where there was of course a Canadian hospital.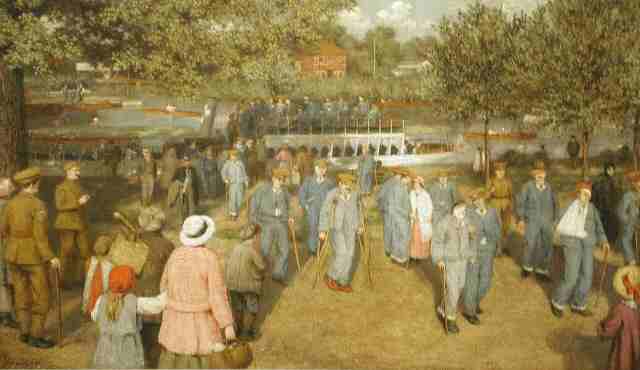 Dame Ethel Walker: return from a pleasure cruise
A sad holiday tale
HMS Formidable was a battleship serving with the Royal Navy in the Channel. It had a crew of 780 men. On New Year's Day, 1915, the fleet was returning from firing exercise. Six battleships and two cruisers were sailing in line through Lyme Bay. HMS Formidable developed engine trouble and was last in the line. Unknown to the navy the fleet was being shadowed by a German submarine. At 2.30am, in bright moonlight, HMS Formidable was torpedoed. Nearly 600 men were drowned or died of cold in the freezing waters. The survivors were rescued and brought to the nearby town of Lyme Regis. One sailor, Able Seaman James Cowan, was thought to be dead but miraculously recovered.
While on holiday at Chesil Beach we visited the beautiful semi-tropical gardens of Abbotsbury, where I found this unusual war grave.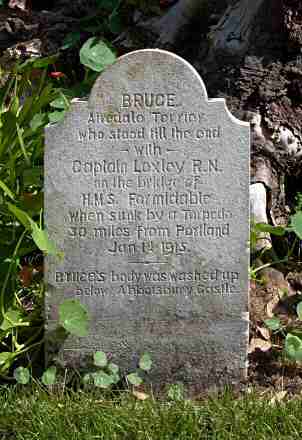 Images of injury
Most of the combatant nations produced photographs of injured men; some were for propaganda, some as official records, some in books or magazines (the Manchester Guardian "History" has a whole series spread across its 11 volumes) and some were personal photographs which might be sent home to encourage relatives that their loved ones were well, and in good company. My Turkish contact Mesut Uyar has been hunting for Turkish versions and, as he has found a few, I have compiled a multinational gallery appended here.
The UK:

A "happy hospital" scene from an album; possibly the Cambridge Military Hospital - but not Sidcup! The baby is an unusual addition to such an image

France:

A typical posed "patriotic" card, although one doubts whether the recipient would have their sprits lifted by such an image

Australia:

An extremely rare colour image of the Australian Army medical Corps in Egypt (from the AWM archive)

New Zealand:

One of a set of Wills cigarette cards depicting transport facilities and including a number of medical vehicles. Some of them seem somewhat fanciful...

Canada:

A postcard depicting a cheery bunch of wounded men bound for England

Germany:

The striped dressing gowns worn by patients here seem less practical than the UK "hospital blues"

Hungary:

This man has a rather startled air. Perhaps the waxed moustache does not help. The reverse of this postcard indicates it was sent home by the subject to reassure them that all was well

Austria-Hungary

A rare portrait of a medical unit (thanks to Patrick Gariepy for the attribution)

Turkey:

Postcard depicting arriving casualties
Harold Gillies commemorated in Basingstoke
On September 21st 2018 a bust of Sir Harold Gillies, sculpted by Julia Beer, was unveiled in the Peace Memorial Garden outside Basinstoke Civic Centre. The ceremony was attended by the Mayor, the local Member of Parliament, Maria Miller, the Bishop of Basingstoke and a group of plastic surgeons and ex-patients of Rooksdown Hospital, where Sir Harold worked during the Second World War and until 1958. A number of local residents and schoolchildren also attended. The bust was commissioned by the Rooksdown Club, the membership of which is dwindling as time passes, and a copy will be presented to the British Association of Plastic, Reconstructive and Aesthetic Surgeons (BAPRAS).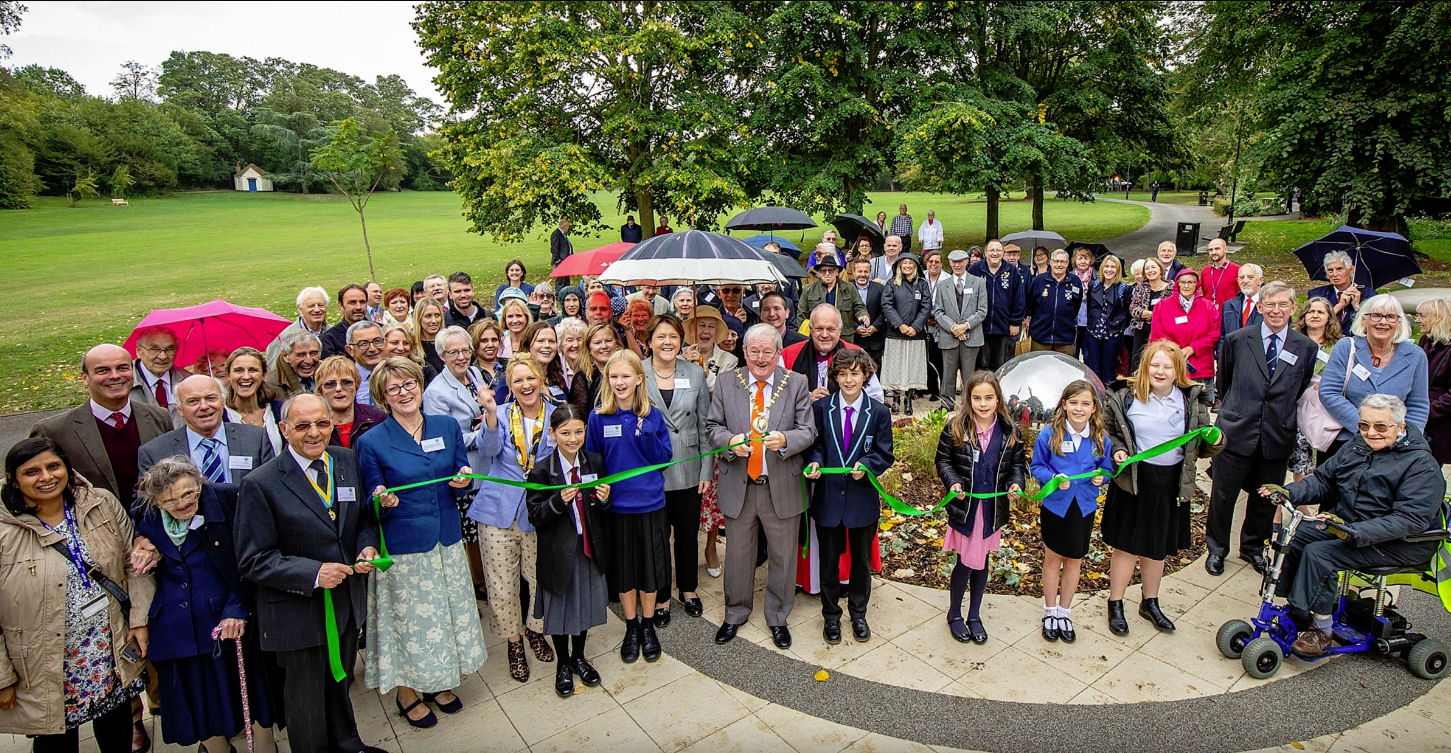 The Mayor of Basingstoke opens the Peace Memorial Garden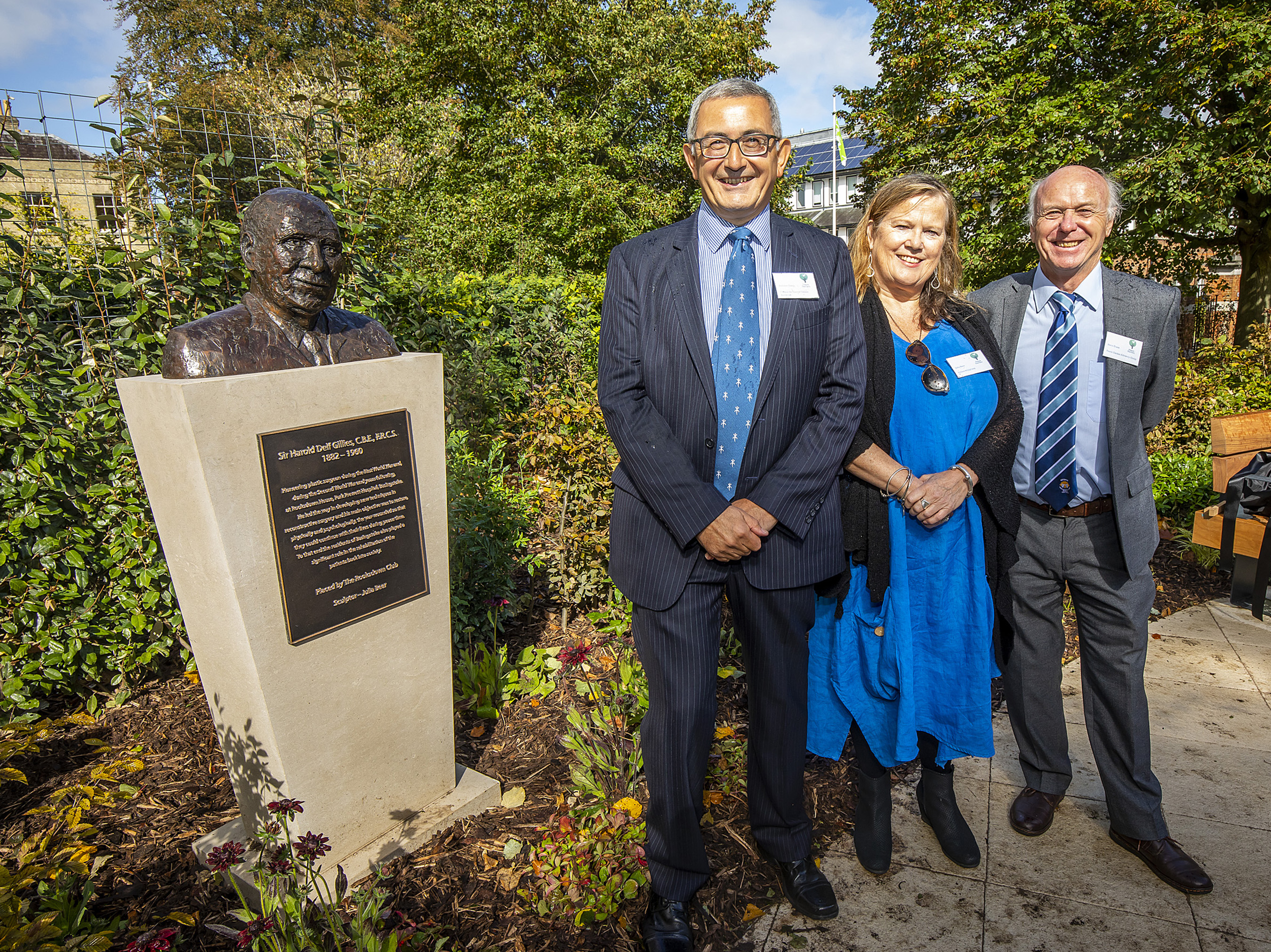 The bust of Sir Harold Gillies with (L to R) Andrew Bamji, Julia Beer (sculptor) and Steve Evans (Secretary, Rooksdown Club)
Casualty tags
Douglas Bryant kindly donated photographs of his grandfather's casualty tag from the Great War and was sad to see that pressure of space had elbowed it off the "Picture of the Week" page! So here it is again. Note that it represents a "Blighty" wound, as the transfer is from the 8th Stationary Hospital, Wimereux to the hospital ship "St Patrick".
Below that is a rarity from the WW2 archive; a penicillin tag from the front in Italy. Penicillin had been introduced only weeks before this patient received his - and survived the serious infection.
Updated 23rd January 2020